Another in a series of new-to-you reviews, written by me. Enjoy.
The year 2002 was a good one for Steven Spielberg — it was the year that he returned to making movies that were fun, rather than beating audiences over the head with Important Social Messages. On the heels of his surprisingly breezy SF action-pic Minority Report, Steve spent a quick 52 days shooting Catch Me If You Can, his slick, slightly loopy period piece about real-life con man Frank Abagnale, Jr. (played by Leonardo DiCaprio). It may not be Spielberg's best movie — but, by golly, it's his happiest, friendliest film in a long, long time.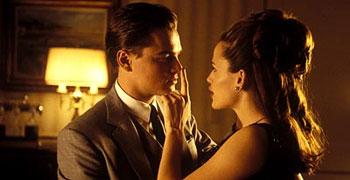 The Saul Bass-inspired opening credits and jazzy, retro score (courtesy of longtime Spielberg music man John Williams) set the swingin' '60s tone. Based on Abagnale's autobiography, the movie tells his true-life, believe-it-or-not story: As a teenager, Abagnale faked checks, diplomas, and birth certificates. He also cashed forged checks for millions before his 21st birthday and flew around the world for free posing as a Pan Am pilot. He later went on to successfully impersonate a doctor and a lawyer. Then, after serving several international sentences for fraud, he was paroled at age 26 on the condition that he go to work for the FBI and teach agents how to catch guys just like himself.
Spielberg's film follows five important years in Abagnale's life, from the point where he started kiting checks through his Pan Am adventures and, finally, to his capture and detainment in a French prison. To make the story more than just an admiring bit of fluff about a charming grifter (and to add more than a little of Spielberg's own thematic obsessions), we're given the Freudian background on the lad — an obsessive admiration for a larcenous father (Christopher Walken), deep pain over his parents' divorce, and a burning desire to shine in his parents' eyes. Fleshing out the daddy complex undertones is Abagnale's cat-and-mouse relationship with the FBI agent who's chasing him (Tom Hanks, in a spirited take on your standard 60's G-man). All of this is presented as a witty, glossy fairy tale — truthfully, one may feel a twinge of guilt enjoying Abagnale's shenanigans without any concern for who he may have hurt in the process — with ever-so-slight subtext about fathers, sons, families and the personal need for validation.
(Read the rest at DVD Journal)