In which I send you back in time to read a review I wrote somewhere else. And why not?
In his excellent deconstruction of David Lynch for Premiere magazine in 1996, David Foster Wallace attempted to define the term "Lynchian":
An academic definition … might be that the term "refers to a particular kind of irony where the very macabre and the very mundane combine in such a way as to reveal the former's perpetual containment with the latter." But like postmodern or pornographic, Lynchian is one of those Potter Stewart-type words that's definable only ostensively — i.e. we know it when we see it. Ted Bundy wasn't particularly Lynchian, but good old Jeffrey Dahmer, with his victim's various anatomies neatly separated and stored in his fridge alongside his chocolate milk and Shedd Spread, was thoroughgoingly Lynchian.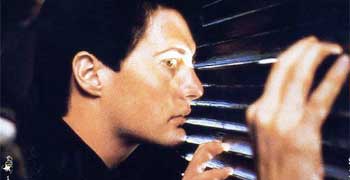 Lynch's disturbing, sensual, sickly funny masterwork Blue Velvet — his defining film — fascinated and repelled audiences on its release in 1986. Closer in tone to his freaky first film Eraserhead than to either his mainstream debut The Elephant Man or his follow-up fiasco Dune, audiences were simply unprepared for the experience. Although Lynch's distinctive style has become recognizable and less shocking over the years (and served as inspiration for such diverse directors as Quentin Tarantino, Jim Jarmusch, Todd Haynes, Gus Van Sant, Todd Solondz, Terry Gilliam, and the Coen brothers), at the time of its release it was stupendously shocking because there had never been a mainstream Hollywood film even remotely like it.
Many critics roundly condemned Blue Velvet in a way that made it sound like they were more disturbed by their own reactions to the film than by the film itself (Roger Ebert wrote that "The movie is powerful, challenging and made with great skill, and yet it made me feel pity for the actors who worked in it and anger at the director for taking liberties with them"), and it's commonly held that only Pauline Kael's enthusiastic review in The New Yorker convinced audiences to give Blue Velvet a second look — saving the film from box-office oblivion. After all the uproar, Lynch was nominated for a Best Director Oscar, and Lynch and actor Dennis Hopper were honored with awards from the L.A. Film Critics Association and the National Society of Film Critics. Many years later, Blue Velvet isn't the shockfest that it once was. But it remains an audacious, uneasy examination of the rotting underbelly of small-town America, combining elements of film noir with a Preston Sturges innocence, all seen through a film of Buñuelesque surrealism.